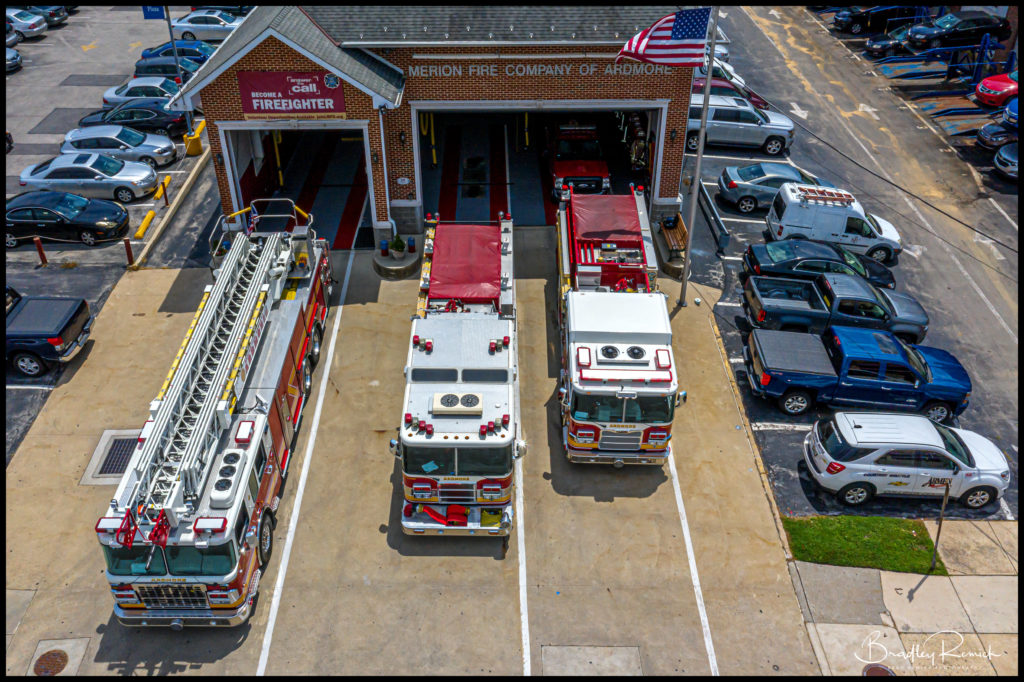 OVERVIEW
The Merion Fire Company of Ardmore is the oldest fire company in the Township of Lower Merion. The fire
company was formed in 1890 by local citizens who saw a need for fire protection in the community. The foundation and professionalism that we live with today comes from our founding fathers whose mission we follow every day, "THE PUBLIC GOOD IS OUR ONLY AIM".
Within this small area, our neighborhoods are made up of two extremes – tight streets with smaller homes and large estates with mansions. Mixed in the middle of this, we have a railroad with commuter and freight train service. Lining up and down the banks of the railroad are rows of apartment buildings.
With over 150 apartments and 770 commercial properties, our firefighters train to stay at the top of their profession. We also assist areas that cover Bryn Mawr, Gladwyne, Narberth, and Penn Wynne Fire Companys' first due. We also assist Radnor Fire Company with F.A.S.T team operations. With the challenges we face every day, the Ardmore Fire Company continues to work and train to keep our skills up to the highest level. Our forefathers entrusted this community to us and we will never let them down.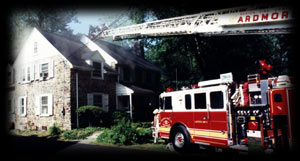 OUR HISTORY
The Merion Fire Company of Ardmore, PA., was formed on January 10, 1890 as the first organized fire protection in Lower Merion Township. The new fire company immediately purchased two pieces of fire apparatus; a Babcock Chemical Engine costing $400 and Holloway Ladder Truck costing $800. These units were drawn by horses rented from a local livery stable.
The engines were originally housed in a shed at the rear of the Red Lion Hotel in Ardmore until a frame firehouse was constructed on Lancaster Avenue, west of Ardmore Avenue in the late 1890's. The fire company finally moved to a new brick firehouse at its present location on Greenfield Avenue in 1908. The fire station was completely rebuilt in 1959.
1890's and 1900's
The Merion Fire Company answered between 20 and 30 fire calls per year. Firefighting during the period was extremely difficult due to large area coverage by the fire company, as well as poor water supply and unpaved roads that were often impassable. It was not uncommon for the firefighters to travel great distances to such areas as Upper Darby, West Chester, and West Philadelphia to assist other fire company's at large blazes.
The chemical engine was a very effective piece of fire apparatus that could quickly extinguish a roomful of fire. It carried a tank of water mixed with bi-carbonate of soda that was mixed at the fire scene with sulfuric acid. This created pressure that forced the liquid mixture through a one – inch hose. The early fire trucks also carried axes, crowbars and chains with hooks that were used to pull flammable material away from blazes and prevent their spread.
In 1904, Ardmore firefighters were requested to send fire engines and manpower to Baltimore to help fight the biggest fire in that city's history which destroyed 1,300 buildings in the business district. But as the firemen prepared to load their apparatus on railroad flatcars for the trip, a fire broke out on City Avenue in Bala Cynwyd and other fire companies were sent to Baltimore instead.
During its early years, the Merion Fire Company faced tremendous financial problems. At one meeting in 1902, the assets of the organization were listed at $.02. To get money, the Ardmore firemen held a wide variety of fund raising events including fairs, musicals, and raffles. At one point, the fire company even bought an express wagon and ran a part – time freight and delivery service to try and raise money.
The Merion Fire Company purchased its first motorized engine in 1911. In 1914, it bought another motor driven pumper from the Simplex Company for $1,500 and the era of fire horses in Ardmore came to an end.
1920's, 1930's
and 1940's
Lower Merion Township began to grow rapidly. There were now four other companies in the township and one in the Borough of Narberth to help fight the growing number of fires. During the period, the Merion Fire Company placed a truck in Gladwyne and opened a substation to provide fire protection for the residents of the area. In 1946 this substation became an independent unit, Gladwyne Fire Company, the sixth Lower Merion Township fire company.
In 1926, the Suburban Square Shopping Center was built in the Ardmore fire district. To respond to this and other larger buildings, in 1929, the Merion Fire Company purchased its first aerial ladder truck with an 85 – foot wooden ladder. This truck was unique for a suburban area because of its size and the fact that it required a tillerman, or driver in the rear, to steer the unit around corners. Even today, this type of truck is usually only found in large cities. The Merion Fire Company had three tractor trailer aerial ladders until 1995.
On December 30, 1930 Firefighter Isaac Boyd was killed in the line of duty when the fire engine he was driving crashed enroute to a house fire started by wiring on a Christmas tree. He had swerved to avoid hitting a woman pushing a baby carriage.
World War II brought a shortage of manpower to the fire company as volunteers entered the armed serves. The Autocar Truck Company helped by continuing to allow its employees who were fireman to respond to alarms while working. The fire company also trained civilian, auxiliary firefighters to help at fires and to prepare for possible air raids. During the war, one of the worst fires in history of the fire company occurred when in 1943, five people died in a house fire on Lancaster Avenue in Haverford.
1950's and Beyond
The Merion fire Company purchased another unique and innovative piece of fire apparatus from the Autocar Company: a high pressure fog unit. This truck pumped water at tremendous pressures through smaller hoses which allowed fires to be quickly extinguished with minimum water damage. This truck became a model for "quick attack" fire units across the United States. During 25 years of service, the "Fog Truck" responded to over 6,000 fire alarms. Today, the truck's uniqueness has earned it a permanent home in a fire museum, the "Hall of Flame" in Phoenix, Arizona.
The Merion Fire Company acquired its second aerial ladder truck, a 100 – foot American La France, in 1952 at a cost of $50,000. It remained in service until February, 1981 when it finally replaced by another 100 – foot American LaFrance costing $190,000 which was entirely raised through volunteer contributions from residents and businesses in the fire district.
This ladder truck was sold to Mt. Penn, PA in 1995 where it continues in service. It was replaced with a 1995 Pierce 100 – foot rear mount aerial.
In 1958 the fire company purchased a 750 g.p.m. pumper which would be the last of many Autocar fire engines that saw service in Lower Merion Township.
One of the most memorable fires in the history of the Merion Fire Company of Ardmore occurred on July 31, 1956, when the Autocar Truck Factory – a several building complex in the heart of the town burned. The fire required the efforts of over 20 suburban fire companies manning over 50 pieces of apparatus, as well as a special deluge unit from the Philadelphia Fire Department. Over five million gallons of water were pumped onto the fire.
Another major fire in the company's history occurred in October, 1988 when the Kiddie City Toy Store and carpet store across from the fire station were destroyed in an eight alarm fire.
Today's MFCA
The Merion Fire Company of Ardmore, Station 25 in Montgomery County, PA – continues to carry on the tradition of service to the fire district since 1890. A new fire station was built in 1998. The fifty firefighters and officers of the company respond to approximately 400 alarms each year. The Fire Company currently operates a 2015 Spartan 103 – foot rear mount aerial, and both a 1997 and 2016 Pierce pumper.